The pharmacist's

LAVENDERaNNa

  advice
Welcome to LAVENDERaNNa's lab! Here you will find the wonderful handmade natural cosmetics and soaps, formulated and prepared by me, Ana-Maria Preda. I am a passionate pharmacist and I want to share with you the benefits of the daily use of natural and handmade cosmetics. My intention is to advise people so that they can pay more attention to hygiene and body care products. It is very important that in our daily hygiene routine to use cosmetics that will maintain our skin healthy.
I advise you in this regard because the skin functions, being they related to the metabolism of the skin or to the connections with other organs and systems, make the skin not only a protective membrane, but an organ that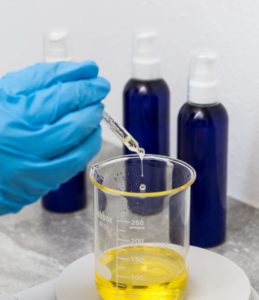 protects the body from mechanical damage and microorganisms, protecting the integrity of the body, having a secretory function, a thermoregulatory function, an exteroceptive function and, also, contributing to the immunological and hematopoietic processes. Because the skin has an extremely wide receptive surface that connects the environment with the whole body, it is also called the "gateway" to our body through which different external substances or ingredients can come in.
The worst scenario for us is when we use chemicals that break down the skin barrier because they can get into the bloodstream and become risky after absorption, having undesirable effects such as: allergies, development of toxic compounds, especially when they are applied in too large quantities or often, or when they have higher concentrations than those predicted by specialists.
That is why, through our activity at the LAVENDERaNNa laboratory, I want to make a change for the better, to encourage people to use as many natural cosmetic products, that can be both efficient and accessible, people just have to try to use them as much as possible. Once you have tried them you can never go back to your old habits.
With love and friendship,
Pharmacist Ana-Maria Preda