After we planted lavender in our garden, nursed it and raised it as our own child, we wanted to make lavender soap. This was our starting point. With dedication and hard work, study and trials, I and my husband, managed to make the first lavender soap. We were so proud and happy that we did this great thing together, so we wanted to share our feelings with you as well.
We can say that we are in love with lavender, because it has an extraordinary floral scent, calming and soothing psychic effects, which is why this wonderful plant contributes to the purification of the body and mind. We like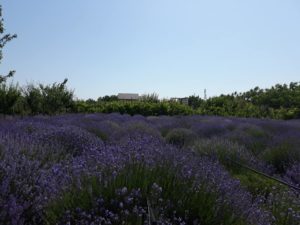 it very much because it helps releasing stress, especially since we meet it every day, it brings extra vitality to the body through beneficial effects on digestion, immunity and dermatological disorders: allergies, erythema, itching, eczema, sunburn, psoriasis and other skin inflammation processess.
We chose to enjoy all the benefits of lavender by distilling lavender flowers and obtaining lavender water and lavender essential oil from our own lavander crop.
LAVANDA WATER is a 100% natural product, in which we decided to keep the essential oil, we did not separate it, wanting to obtain precious lavender water with multiple benefits for the skin and body.
LAVANDA WATER is a 100% safe product, it is a good tonic after cleansing, it calms the skin after shaving or epilation, it has a healing and comforting effect, it cares for all skin types, including sensitive and acne skin, having an anti-inflammatory and antiseptic role, it calms the irritations and redness, the buttocks erythema in babies, the skin affected by insect bites and sunburn – "after sun" naturally. Every evening I pamper myself with lavender water, it gives me a feeling of freshness and hydration.
With love and friendship,
Pharmacist Ana-Maria Preda